Although minorities make up 30% of the U.S population, only 18% of U.S. businesses are minority-owned. Clearly, even though diversity has become a topic of focus over the last two years, it is still harder for minority-owned businesses to get started, obtain loans, and stay afloat.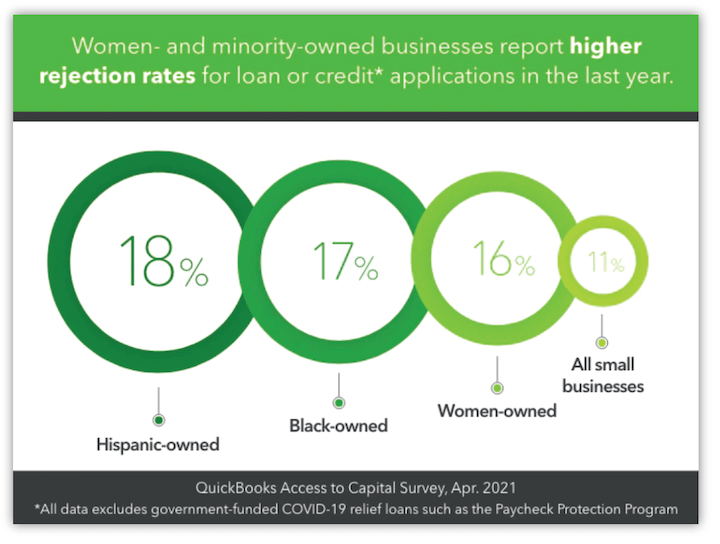 Minority-owned business face higher loan rejection rates.
But there is growing support out there. So in this post, I'm going to share eight tips and resources to help minority businesses succeed.
Tips for minority-owned businesses
Read on for a mix of info and inspo! If you're not a minority business owner, share this post with someone who is!
1. Get certified as a minority-owned business (MBE)
Obtaining an official certification as a minority business enterprise (MBE) gives you access to lots of different advantageous resources: client databases, increased business partnership opportunities, training and management workshops, networking events, and lots more.
According to the US Chamber of Commerce, there are a few ways to get certified:
NMSDC certification: National Minority Supplier Development Council, Click here for the certification process. After verifying your eligibility, all you'll need to do is gather up the necessary documents, complete the online application, pay the fee, and wait for the final approval.
Federal certification: SBA's 8(a) Business Development Program is for socially and economically disadvantaged people who either have or want to start their own business. A robust nine-year program, participants receive benefits like training, technical assistance, contractual help, and much more. Here are the eligibility requirements and application process steps.
State/city certification: Some regions and cities grant their own assistance for minority-owned businesses. To check out opportunities in your area, do a quick Google search to explore all the opportunities in your area.
2. Apply for minority business grants and loans
Starting and growing a business is certainly a pocket-bender, but there are small and minority-owned business grants and loans to help.
Each grant or loan will have its own eligibility requirements based on employee count, gross annual revenue, and more. You can use Forbes' full list of small business grants for minorities here. If you qualify, go ahead and start the application process. After all, even the smallest amount helps!
3. Embrace your minority experience
This one may sound a little cliché (it totally is), but it's important. No matter your race, ethnicity, or sexual orientation, embrace your identity and incorporate it into the pride and branding foundation of your business.
Rihanna is just one example of a minority business owner who is constantly uplaying her authentic Caribbean roots and staying true to her message of diversity and inclusion. But you don't have to be a celebrity to embrace the minority experience.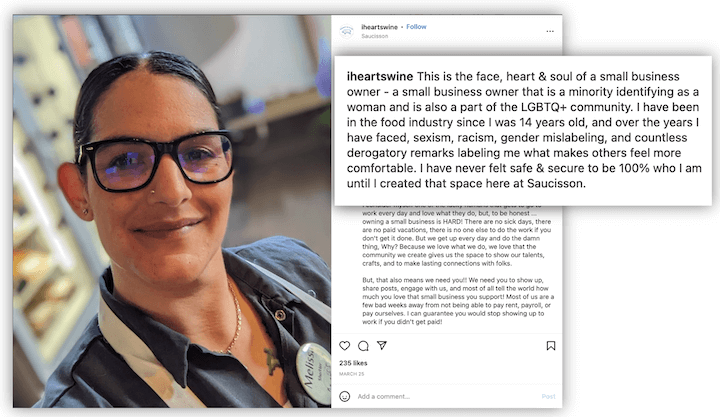 4. Expand into other languages
There's no doubt that most people in the U.S. speak English fluently, but as the world becomes more globalized, you'll be surprised by how helpful linguistic diversity can be.
For example, if you are a LatinX-owned business, go ahead and invest in English and Spanish translation services for your website and social accounts. Not only can you expand your audience, but you're supporting the minority community by making it easier for them to discover, learn about, and access your brand.
Make sure that they can connect with every piece of marketing you put out there. After all, the goal is inclusivity, not exclusivity.
5. Follow minority influencers on social media
Whether you're looking for inspiring quotes or practical tips, there are plenty of minority entrepreneur influencers out there that can give you your daily dose.
Whether it's lifestyle influencer Nabela Noor all the way to "The Glow Up" founders Shannae Ingleton-Smith and Tania Cascilla, there are so many minority success stories that you can learn from.
It doesn't matter what industry you are trying to dominate. It doesn't matter what specific goals you want to achieve. Sometimes, learning from others can be the best way to cut through the red tape of business and get right to the success you're looking for.
Manifest victory by having it show up on your social feed every single day!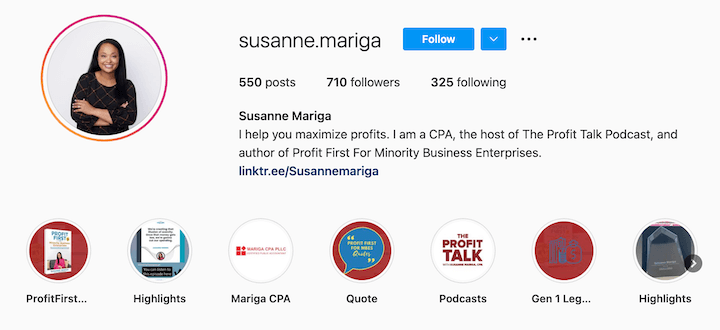 Susanne Mariga is just one of the many minority entrepreneur influencers out there.
6. Diversify your team
The minorities that make up an MBE doesn't need to all have the same background. In fact, it's best to surround yourself with hard-working, dedicated, diverse employees that come from all different kinds of ideologies, goals, and values on diversity and inclusion.
This is a great way to strengthen the minority community as a whole, not to mention strengthen your brand integrity.
7. Use minority-owned labels and badges
Platforms like Google Shopping, Instagram, and Facebook offer ways for minority-owned businesses to declare themselves as such. This makes it easier for socially aware shoppers to find and support minority and Black-owned businesses.
For any of your listings and profiles, check to see if there are options to mark your business as minority-owned. Here are some resources to get started:
8. Celebrate national heritage months
Did you know that April is National Celebrate Diversity Month? Or that November is Latin American Heritage Month? Find which months and days align with your identity and incorporate them into your seasonal marketing.
Better yet, celebrate other groups as well to strengthen the minority community as a whole.
8. Use minority business resources
There is a whole host of resources out there just waiting to be used if you're a minority business owner. Here are a few of the best tools you ought to consider:
For even more, head to Funding Circle's list of resources for minority-owned businesses.
Success has no limits
In the end, being a minority entrepreneur is a special title to hold and one that should make you feel proud. While it comes with its challenges, there is support available—from counseling and training to funding and partnerships.
Success has no limits. Literally. Embrace your minority identity. Show the world what business wins we are capable of. To all the minority business owners out there, you're killing the game. Don't stop now!