Google My Business (GMB) is a free and easy-to-use tool for local businesses to manage their online presence across Google. This blog post is a great starting point to help you learn more about GMB, including how to set up your profile, verify it, and optimize your GMB listing.
---
Whether you are a small restaurant owner or an online marketing agency, you need a Google My Business profile.
Commonly abbreviated as GMB, Google My Business is an online business directory that Google has created to help businesses manage represented on Google search and Maps.
It is an entirely free tool that lets you interact with your online target audience as they discover information about your brand, working hours, map coordinates, direction, contact details, and reviews from existing customers.
Image Source: Full Funnel Marketing
Through GMB, businesses can also access interactive features like reviews and questions and publish a variety of media like photos, videos, and posts, which makes it one of the most effective marketing tools.
First, let's get onto the same page regarding why Google My Business is essential for local businesses and exactly how you can optimize your GMB listing.
Importance of GMB Listing
Setting up your Google My Business goes beyond free advertising and gaining more search visibility. It is an effective tool that transforms attention into action.
This is because many searchers, especially mobile users, rely on Google to access credible contact information and use their quick call-to-action buttons.
In fact, a study by BrightLocal shows that 64% of online searchers use GMB profiles to contact details for local businesses. Creating a GMB profile will give potential customers who are searching for you a quick and easy glimpse of your business information.
Besides, creating a GMB profile allows you to manage your brand's search results as it grants you the editing capability for what shows up in your profile. Using the correct methods, you can also use your Business Profile as an effective SEO and lead generation tool.
It goes without saying that setting up your Google My Business profile can also guarantee you additional visibility. For example, the Local Pack that appears above organic search results is entirely made up of GMB profiles.
On the other hand, GMB will also get you a placement on Google Maps, enabling your business to reach people looking for a specific product or service near them. These are ready-buyers with high purchasing intent.
Ultimately, this assures that your business name will reflect in both brand and related product or service searches to help establish your business credibility.
Besides, a GMB profile is easy to set up! Let's go through it together.
How to Set Up Your GMB Listing
a. Set up a new Google account for your business or log in to your existing GMB account.
b. Go to google.com/business and click "Manage Now". Type in your business name here to find out if there is an existing GMB listing, or click next to add your business to Google.
c. Select your business category. This is a required field and detrimental to the search terms your business will appear in Google. To select the most accurate category, we recommend testing out the search terms in Google and researching your competitors to find the best category fit.
d. Add a contact number and website URL. A key thing to note here is to make sure you use an official business number answered. If you don't already have a website, Google will also allow you to create a new Google Website based on the information provided.
e. Verify your business. The goal is to gain full access to your Business Profile on Google, so make sure you complete your business verification and claim ownership.
Now you're done! But remember setting up your business profile is just the first step of boosting your local SEO. Once you have an officially verified listing, it's time to optimize your GMB listing.
7 Ways to Optimize GMB Listing
1. Have accurate NAP
To start, one of the most vital and fundamental ways to optimize your GMB listing is to ensure NAP consistency. This relates to how accurate and up-to-date your location-based business' contact information is across all local directories, social media profiles, and websites.
Many businesses often miss out on this local SEO ranking factor and have multiple business profiles showing different contact information.
These inconsistencies and errors have the potential to harm your search rankings, so do a quick Google check on your business and see if your NAP is consistent across all online listings.
A quick tip to boost NAP consistency is to build local citations. Use press releases and online directories to get your business' Name, Address, and Phone number out there to increase discoverability and awareness.
2. Write the Perfect Business Description
When it comes to the perfect business description, you need to incorporate target keywords into your business profile so you can tell Google what you're trying to rank for.
This should go beyond short-tail keywords like cab service in London or hairdresser nearby. Here we recommend using BiQ's Keyword Intelligence to help you discover and extend your business search terms.
When people are looking for businesses, there's a specific search intent behind it. You need to understand your target audiences and why your business is necessary to reach your audiences better.
Let's say you operate a cab service in London; you should understand that some people may be looking for cab services in London for sightseeing while some may be looking for cab services in London with the cheapest fare.
Understanding how your business operates and who your target audiences are can help you create a better business description that is more relevant and engaging.
Most importantly, use your keywords naturally and appeal to readers instead of Google bots.
3. Upload Relevant Photos of their Business
Based on a study by Synup, online business listings with photos can get 35% more clicks and are 2x more likely to be considered reputable,
Adding an eye-catching and relevant profile picture for your Google My Business profile is like having an excellent Tinder picture. It helps you create an excellent first impression and is usually what makes users swipe right.
As Google allows you to add multiple photos and videos, make sure the images you include highlight the best features of your business and help you stand out from the rest of your competition. Here are some quick tips:
Logo – Your logo helps your customers recognize your business on Google, so make sure your logo image follows Google's standard dimensions of 250 X 250 pixels while maintaining high resolution.
Storefront Photo – Photos of your storefront will help customers quickly locate your business from any direction. To make the most of your exterior photos in GMB, upload well-lit photos from each direction that customers might approach your business.
Product/ Service Photo – These photos give your customers a better understanding of what goods and services your business is offering. It is also a chance to promote and appeal to potential customers. For example, bars can show a picture of their signature drinks, or hotels can have pictures of their amenities to attract traveling customers.
You can learn more about GMB's photos and videos guidelines here.
4. Monitor and Respond to Reviews
People read reviews before making a purchase. That's why managing user reviews on your GMB listing is essential.
Both good and bad customer reviews can significantly influence the way potential customers think about your product or business, in addition to affecting your local search rankings.
By keeping a close eye on your reviews on Google, you can showcase your business in the best light and minimize the impact that any negative opinion might have on your business.
Even just responding to a review can positively signal to Google that you are active and build users' trust in your business.
Additionally, your responses to reviews can also be the perfect place to include keywords to boost your search relevancy. Just make sure you use them naturally just as you would with any other SEO strategy.
5. Set Up Q&A to Answer Customer Inquiries
The thing is, you can also use the Q&A section in your GMB listing for your business advantage.
Today's shoppers often check the internet and do some research before they make a purchase, whether it's online or offline. They are curious about the prices and quality of your product or service, but will not necessarily take the hassle to inquire.
In this case, answering expected questions in your business profile's Q&A section will be perfect for these people who are looking for ready information. Plus, it will make your listing look super useful to people that are researching and comparing businesses or services.
To create an effective Q&A for your business, curate a list of questions and answers your business often encounters. Research your competition and also include questions and answers that would reflect your competitive edge.
Plus, you can also use BiQ's Keyword Intelligence to get more keyword insight, especially in our Popular Question tab. You can simply type in your main keyword and our tool will generate a list of related questions that your customer might be asking too.
6. Claim Your GMB Listing
As we have stressed over and over again, a Google My Business listing is important to help customers and prospective clients find your business easily.
80% of consumers lose trust in a local business if they see incorrect or inconsistent contact details or business names online, so no matter what, claiming your business listing is a must even if you are an online business.
You need to claim it to keep your details consistent and updated to provide the best user experience. This also includes analyzing and optimizing your business based on the statistics you will get from your Google My Business profile.
7. Track and Monitor Your Local Rank Tracking
Now that you have your GMB Listing optimized, it is crucial to track and monitor the effectiveness of your keywords through local search rankings on Google SERP.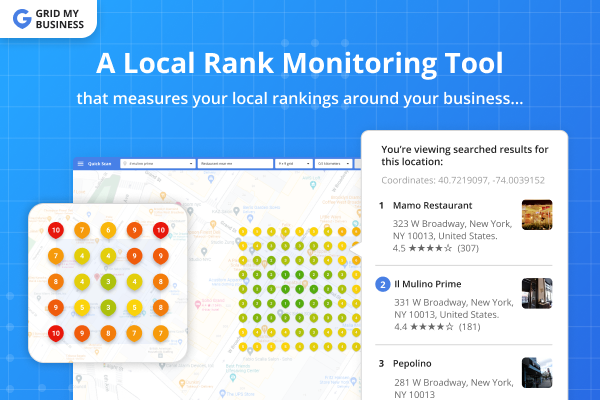 Grid My Business is a local rank monitoring tool that will show you the local search rankings of your local business and your competitors' on Google Maps in a grid view. It supports all locations that can be found on Google Maps. Once you have finalized your targeted keywords, you can obtain more profound insights into your local rankings with Grid My Business.
This ultimate local rank tracking tool allows you to uncover ranking opportunities among your pool of competitors based on each specific search query. You can identify local rankings of multiple search queries by performing a quick and easy bulk scan of up to 5 keywords per scan. It Saves time and saves money.
Besides that, you can also schedule an automated rank monitoring and obtain precise weekly updates of all your local search rankings in a comprehensive white-label report. By having this report, you can easily keep track, monitor, and even have a side-to-side comparison with your local competitors. Thus, supporting your local SEO ahead of the competition.
Track my local search rankings with Grid My Business now!
Conclusion
Managing your company brand and image is important for any business. As Google is making it easier for users to find out more about a company brand, managing and optimizing your GMB is essential for every business. This is not just to maximize your search visibility but also to build a positive image.
Remember, setting up your GMB profile is just the start of your local marketing journey. No matter how niche your business is, competition is rife in local search and you must have the right SEO tools on hand to help you optimize your rankings.
If you ever need help maximizing your online presence, try out BiQ Suite and Grid My Business today to improve your SEO and reach relevant audiences.
Updated: 26 January 2022