Repurposing content is an easy, often time-saving practice, that brings a plethora of benefits
Are you making the most of your content? Repurposing content – i.e. finding new ways to re-use your content – is an easy, often time-saving practice that brings a plethora of benefits.
From reaching a new audience to saving time creating new content and improving your search engine optimization (SEO), repurposing content is all about using data and insights to make your job as a marketer easier!
In this short guide, I'm going to show you how exactly you too can repurpose your content.
Set marketing objectives that align your content marketing with your company's business vision
There are so many components in a marketing strategy, it can be easy to lose track. But, to make the most of your content marketing, marketers know that integrating your content strategy with your existing marketing activity goals is a sensible way to strengthen the impact of your channels and platforms.
Our RACE Framework is a simple, strategic structure for marketers to plan, manage, and optimize their marketing strategies, centered around customer experience and the customer journey.
You can use the RACE Framework to set objectives for your content marketing, and align your marketing activity with your broader marketing strategies and goals. Book a call with a member of the customer team today to discuss your content marketing strategy in the context of the RACE Framework.
Book your call today to start identifying your current content's strengths and weaknesses for reaching your target audiences, encouraging interaction, plus converting customers and keeping them engaged.
Audit your content
If you're going to repurpose any of your content, you should ideally start with the best, most popular pieces you've already created:
Blog posts and resources from your website
Email marketing campaigns
Social media
And any other channels you're using to create and publish content
Start by making a list of your most popular content; in order to do so though, you'll need to check your analytics:
On your website: go to Google Analytics and follow this path: Behaviour – Site Content – All Pages; here, you'll be able to see a list of your top performing content. Then, change the date ranges (at the top of your dashboard) to see what other top performing content you've had during other periods of time:

Email marketing: check your email marketing tool's analytics to see what your top performing campaigns and newsletters are.
Social media analytics: which of your social media posts generated the most engagement/clicks? On Facebook, you can find the list of your most popular posts by going to your Page Insights and clicking on posts. On Twitter, it's similar – just click on Tweets in Twitter Analytics and then on Top Tweets; like with Google Analytics earlier, you can change the date range: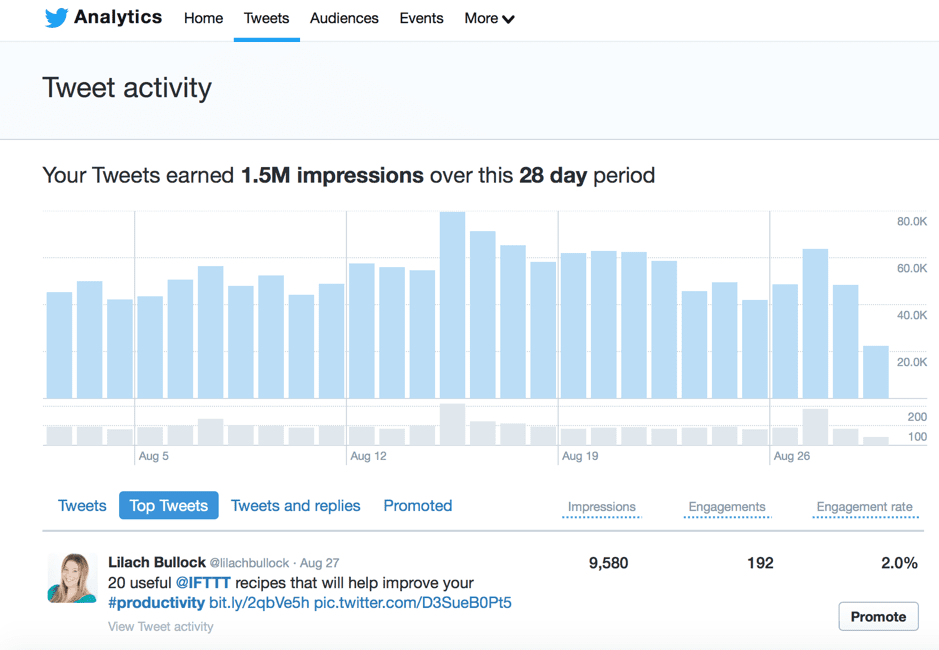 If you use any other channels to publish content, repeat the process; then, make a list of all of the top-performing content on your different digital channels (not just blog posts and social media updates, but also any lead magnets on your website and basically any content you've ever created).
Once you've got that list ready, you can start thinking of ways to repurpose this content – although, you might not be able to repurpose all of it. In some cases, you'll be able to repurpose almost the entire piece of content while in others, only small parts.
Here are some of the best methods of repurposing content:
Use data to update and expand older pieces of content
Some of the content you create can continue driving results over long periods of time (even years). These are usually evergreen pieces of content, such as how-to guides and listicles.
One of the easiest and quickest ways to repurpose content is to take these pieces of evergreen content (blog posts, resources) and update them and/or expand them with new content.
For example, if you've written a guide a year (or several years) ago that is, in large part, still relevant today – let's say it's a guide on how to repurpose your content – then you can make sure it's 100% relevant by updating it and adding new content: are there any new and interesting ways of repurposing content? New rules that readers would need to know about?
Then, all you need to do is update the post and write down (preferably right at the top, under the headline) that the post has been updated, together with the date and re-promote the post to get more traffic, leads, and reach a new audience.
Find new opportunities for your content marketing
Identify your strengths, weaknesses and find new opportunities with the RACE Framework. Book a call to discuss content marketing solutions that work for you and your business. Find out more about the RACE Framework, and content marketing strategy tools covered in this blog. Book in your call to get started today.
Turn a blog post into a different format
Another way to repurpose content is to turn it into a completely different format so that you can republish it (on the same channel) or publish it on a completely different channel. It would result in a new piece of content and it will help you reach a new audience. Here are some of the best ways to turn your blog posts into different formats:
Presentations
Turn a blog post into a presentation, which you can re-post on your blog/website and on other channels – particularly Slideshare, which can help you reach a whole new audience.
Use your best posts – for example, educational content, content with lots of interesting statistics (generally, evergreen content) – and turn them into powerful presentations to use on Slideshare, on your website as a blog post or a downloadable resource/lead magnet, in webinars, and so on.
Infographics
If you have any content with lots of interesting statistics, it's a great opportunity to turn it into an infographic. Use tools like Canva or Visme to help you create your infographic. You can then re-post it on your website, share it with your email list, submit it to various infographic directories and other publications, and share it on your social channels.
E-books
Do you have several pieces of content on the same topic? If so, you could combine them into a short e-book, with some rewording to make sure it all flows well together. E-books make great lead magnets so you can create opt-in forms on your website to generate more leads through e-book downloads.
Repurposing content to create social media updates
Your blog posts and other content can easily be turned into great social media updates; for example:
Use quotes and statistics from your content and turn them into social media images (with the quote/statistic/interesting fact over a relevant, eye-catching image)
Turn a popular blog post into a short social media video – for example, you can use a tool like Wave to create your video
Re-use images that you've created for your content on your social channels
Repost your content on other platforms
One of the great benefits of repurposing content is that it helps you reach a new, wider audience. And one of the ways to do this is to repost your content on different channels:
Repost your content on different websites: BizSugar, Medium, Buzzfeed, Growth Hackers
Use your existing content to answer questions on Quora: Quora is a popular social platform when anyone can ask questions on any topic, and anyone (with an account, of course), can answer. It's a great opportunity to grow your online profile, boost your influence in your niche and reach a new audience; plus, you can, on occasion, link to your own blog or website where relevant and generate more traffic. Search for questions on topics that you've written about and use relevant parts of your content to respond to them: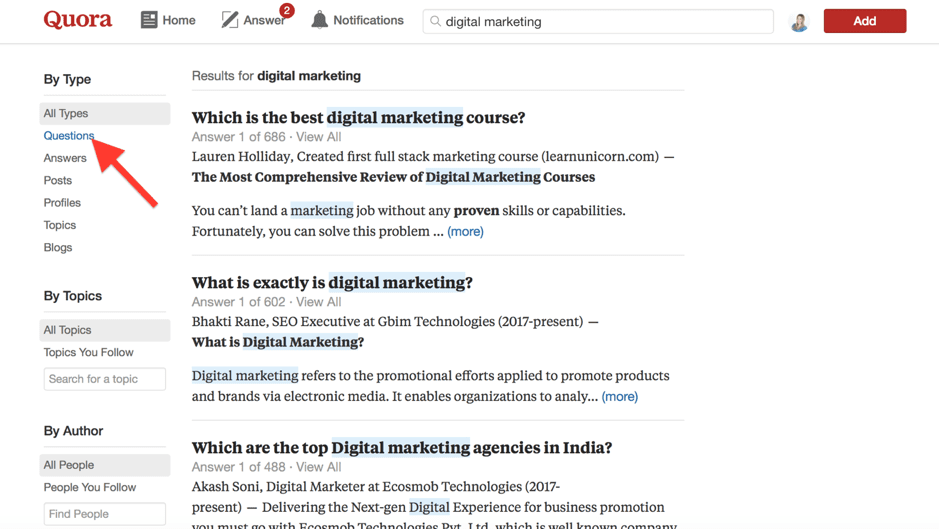 Repurposing content as a lead magnet
Some of your most valuable content can easily be turned into a lead magnet and help you generate more leads for your business.
Check the list of your top-performing content and select any evergreen posts that provide a lot of value to your target audience: how-to guides, educational content, useful listicles, and so on.
Then, simply create opt-in forms on your website to offer these pieces of content as downloads for your audience.
A very easy and quick way to do this is to turn this content into downloadable PDFs.
Strengthen your customer lifecycle with content marketing
Good quality content can add value at every stage of your customers' journeys. But, to make sure your content is working hard for you within your marketing strategy, we recommend taking the time to map out which content is more appropriate for which stage of the lifecycle, and which media best serves that purpose.
After all, content distribution doesn't have to be complicated, but for the best chance of success, you will need to be clear in terms of your goals and KPIs.
Looking for marketing strategy advice? Why not book a call with a member of the team to discuss your marketing strategy in the context of the RACE Framework? In your dedicated call, you can identify content marketing and other marketing channel options to strengthen your customer lifecycle, and win more customers.
Repurposing content saves you time and money
As you can see, there are numerous ways that you can re-use and repurpose your content and generate more results from content that you already know, works – instead of constantly creating new content for your blog and website, social media, and other digital channels.